Diner en Blanc Philadelphia dazzled the city by popping up on Thursday, August 21, 2014 at the secret location revealed to be the Avenue of the Arts. This year, it was a sea of white as far as the eye could see as 3,500 guests decked out in the hottest white fashions filled Broad Street from Pine and Chestnut Streets. Aversa PR and Events was proud to again be the official public relations company for the local installment of this pop-up picnic, viral movement and global phenomenon.
Special thanks to co-hosts Natanya DiBona and Kayli Moran for including us in one of the city's most memorable events. Their attention to detail, grand vision and love for our city produced an event that will never be forgotten. Congratulations also go out to the 100 volunteers that worked hard to ensure a picture perfect evening. Finally, special thanks to our entire PR team for 2014, including Lauryn Resotka, Gabbi Townsend, Eri Washington and Dash Sears.
They say a picture paints a thousand words. Indeed they do when it comes to a truly viral event! This year, thousands of gorgeous photos popped up around the globe on Twitter, Facebook, Pinterest, Instragram, Google+ and other platforms. Search for the official hashtag #DEBPHL14 as well as #dinerenblanc and #debphl. Thanks to our sister cities around the globe for sharing our images and all of your support!
For a recap of our favorite photos from the night, visit our official album below featuring breathtaking shots from Johanna Austin, Hughe Dillon, Charles Mosteller, Alessandra Nicole, Inna Race, Patrick Hagerty, and our staff photographers.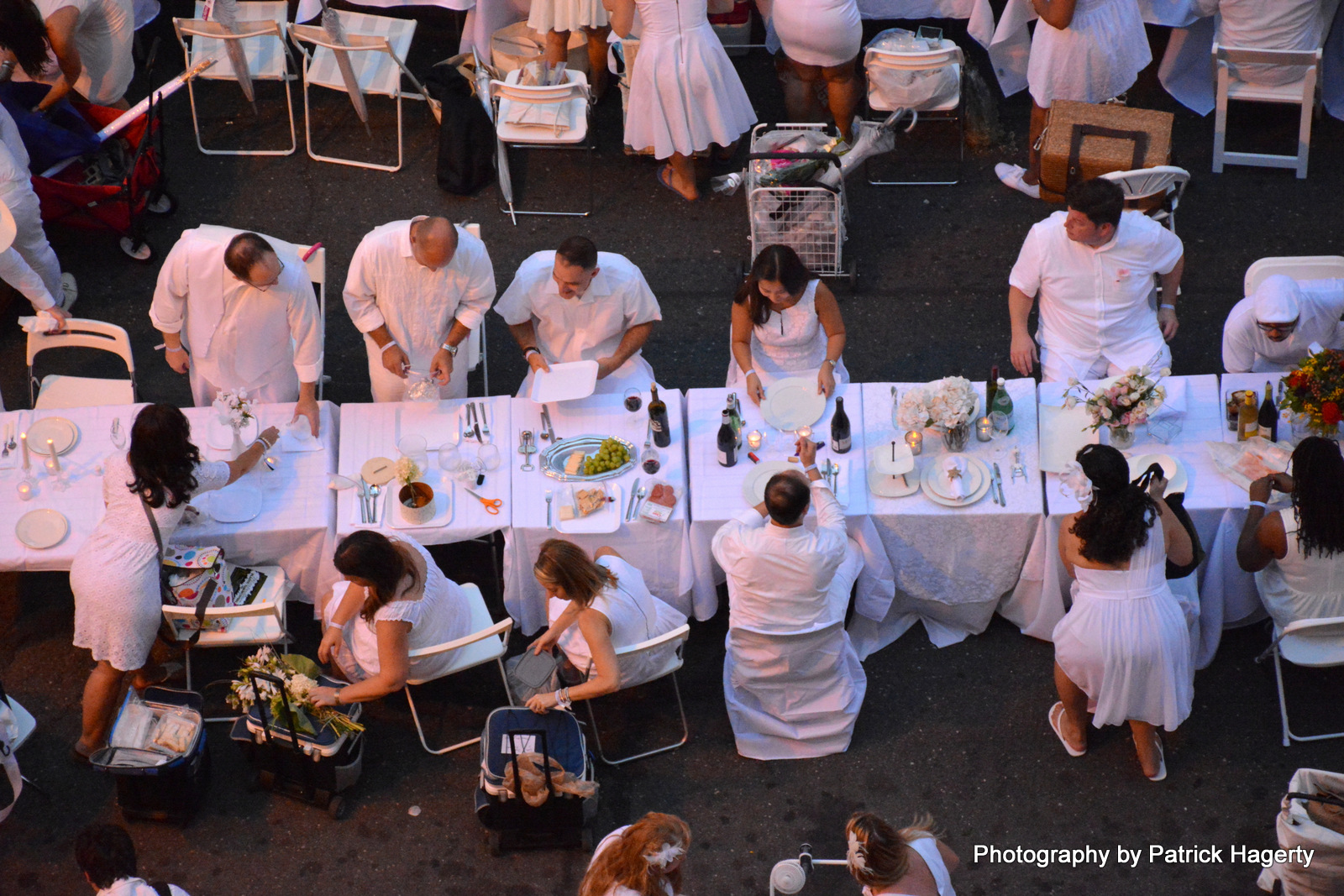 Now in its third year, Diner en Blanc Philadelphia continued to garner interest locally, nationally and internationally. Stories started to go viral 24 hours in advance of the event, and the event trended in Philadelphia for up to 48 hours. Over 100 news stories and mentions included 35 radio and television spots that reached millions of viewers and listeners. Print and online reach nearly doubled that of the year prior, with additional stories to come as we enter September.
For highlights of photo albums, visit the following:
Special shout-out to Hugh Dillon from Philly Chit Chat for beautiful photos and great recap of the night's festivities:
Philly Chit Chat - Did I Shoot You? My Diner en Blanc Links and a Few More Photos to Enjoy
Other highlights include the following - please let us know if we missed your favorite. Post any additional stories in the comments for our review.
Leading up to the big day, Diner en Blanc Philadelphia dropped by local television studios for a special preview of the magic. Visit below for our favorite shots from the shoots on Fox 29's Good Day Philadelphia and CBS Philly.
The final destination wasn't the only surprise this year! Co-hosts tapped local talent to design one-of-a-kind fashions for a one-of-a-kind evening. Check out shots from the initial design consultation and subsequent fittings with Project Runway winner Dom Streater.